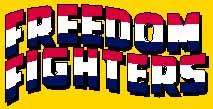 Ah, the Freedom Fighters! Uncle Sam, Doll Man, the Black Condor, Phantom Lady, the Human Bomb, the Ray, and later Firebrand! These characters were originally published by Quality Comics in a number of titles, but they'd never been presented as a group. That is, not until years after DC Comics acquired the rights to them. Some of the original stories found their way into 100-page Super Spectaculars, but when something was needed for one of the annual Justice League of America/Justice Society of America team-ups, it was decided to bring back these characters as a super-team. Since they'd not appeared before, the decision was made to put them on thier own Earth, called Earth-X. This Earth was one in which the Nazis won World War II, and the Freedom Fighters were the last hope against the forces of evil. Thanks to the JLA and JSA adding their forces, the tide was finally turned! Then, for some reason (I haven't got the first few issues), the Freedom Fighters decided to immigrate to Earth-1, where life didn't go quite as they expected...
After their series was cancelled, it took until All-Star Squadron in the 80s before the characters re-appeared... but as Earth-2 natives! I don't recall if Roy had forgotten about the Freedom Fighters or not, but either way, he later provided an origin for the team, albiet minus the last hanger-on, Firebrand, who had by that point been replaced by his sister. Anyway, Uncle Sam was able to find his way to Earth-X, and seeing that Earth had no heroes to fight the Nazis, he recruited every superhero on Earth-2 (who was published by Quality, inclduing the Red Bee!) plus Hourman to come over. Anyway, everyone but Hourman ended up staying...
...unfortunately, then Crisis on Inifinite Earths happened. Suddenly, not only was there no Earth-2 or Earth-X, but all the Freedom Fighters ended up becoming All-Star Squadders again! To the best of my knowledge, nobody's gotten around to confirming if in modern DC continuity whether or not the Freedom Fighters ever existed as a group (personally, I figure while they were All-Stars, they also had their sub-group, just as the JSA still had their own private gatherings, and the Seven Soldiers of Victory still had their own adventures... maybe, assuming the characters haven't been too screwed up by now -- there was a Vertigo Uncle Sam series I never read -- we'll see a Freedom Fighters issue or two of "Legends of the DC Universe"?).